LiveOn, the innovative, fully featured online platform for organizing digital conferences and exhibitions designed and developed by the ethosGROUP group of companies, comes to meet in the most ideal way the important and critical business needs that arose in the market of conferences, exhibitions and professional events because of the COVID-19 pandemic.
Designed for every type of event and fully adaptable to its needs, LiveOn transforms the entire exhibition and conference experience, offering unique opportunities for professional networking and targeted business promotion. Utilising advanced web technology, based on a secure cloud environment, offering a quick & friendly user interface to organisers and participants, LiveOn has a low and scalable cost of use and is built with Customer Success in mind.
LiveOn is brought to you by ethosGROUP of companies. Book your demo with us today at info@liveon.tech or +302109984950.
----
ethosGROUP is a group of companies operating in Greece and the Arab countries (MENA), offering communication and marketing services in a variety of businesses and markets. EthosMEDIA has been leading the group with a successful course for more than 32 years in the publishing sector, where it has a wide range of print and electronic media, which share with their audience advanced and specialized information as well as real-time news. EthosEVENTS complements the services of the group by organizing top-notch conference events that offer professional networking opportunities in various market segments. Finally, ethosBUSINESS offers distinguished and quality consulting services and business development services.
Οι εκπρόσωποί μας στο CEO CLUBS FORUM
Labis Loukas
Board Advisor
@ ethosMEDIA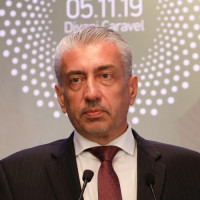 Konstantinos Ouzounis
CEO
@ ethosGROUP
Yannis Triantafyllou
Board Advisor - Director of Marketing
@ ethosMEDIA
Πληροφορίες για την εταιρεία και την δραστηριότητά μας